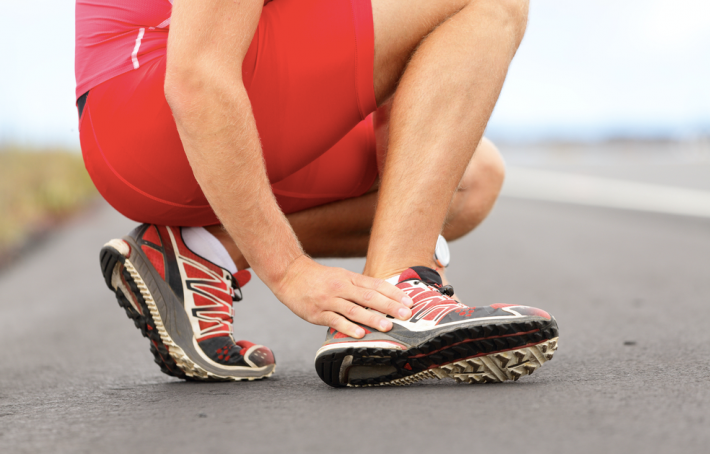 ANKLE PAIN
The ankles bear the weight of your body, and determine how well you move, how well you feel, and how well you live.
Whether you've suffered a twist, sprain or other acute injury – or have lingering, chronic pain, it's important to take proper care of any ankle injury. We treat all types of ankle injuries, with the goal of healing you as quickly and completely as possible, getting you back to what it is you love to do, and educating you about how to keep your joints safe to avoid injuries down the road.
When to Seek Ankle Pain Treatment:
The first 72 hours after an injury are the most important. Seek treatment as soon as possible.
Even more important than treating ankle pain as soon as possible, it's critical to treat it correctly. A physiotherapist is an expert in assessing and diagnosing your ankle injury and will establish what your problem is, and how best to treat it. We will refer you to a doctor if your injury requires it, particularly in severe injuries that require medical imaging.
How we Treat Ankle Pain and Ankle Injuries <H2>
We start with a full physical assessment. We'll figure out exactly what your problem is, what caused it, and how to treat it. We'll then develop a treatment plan specialised for you in our customised facility. If you need a referral to a doctor or sports specialist, we'll connect you to the best expert for your needs, to make sure you heal quickly, correctly and completely.
Ankle Pain Treatment Stages:
Range of motion rehab

Recover the movement of your ankle, safely restoring it to full range of motion.

Progressive muscle strengthening

Exercise prescription to restore strength to your ankle.

Proprioception (balance training)

Restore the important balancing muscles of your ankle.

Activity training

Prepare you and your ankle to get back to it – whatever your activities are!

Education and Home Rehab/Exercises

We provide you with the knowledge and techniques to continue your recovery at home and avoid injuries in the future.
Some of our Ankle Pain Treatment Methods:
Electrotherapy
Dry Needling
Specialised Foot Rehabilitation
Physical Rehabilitation
Ankle Sprains
More than 40% of ankle sprains have the potential to cause chronic problems. If you've sprained or twisted your ankle, it's especially critical to get proper treatment
We treat all types of sprains, from mild to severe. Treatment plans will, as for other types of ankle pain, be specialised for your injury, your lifestyle, and your future happiness.
Have you got a sports injury? Need to get back to training as soon as possible? We treat athletes constantly, and can advise on how to recover quickly and completely – even how to train while recovering from your injury.
Contact Us Today
If you're suffering from ankle pain, get in touch with Morley Physiotherapy Centre today to book an appointment with our friendly and experienced physiotherapists. Let us help you get back on your feet.