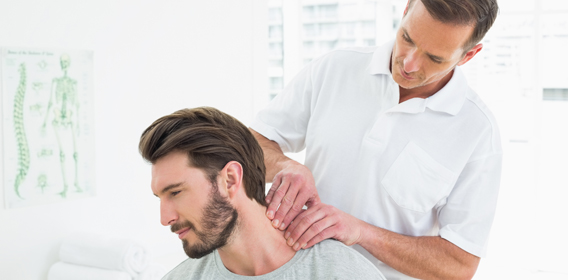 Have you woken up today with a stiff or sore neck, and are you living with chronic neck pain on a day-to-day basis? Well, you shouldn't be. At Morley Physiotherapy Centre we can provide you with the best possible treatment you need to be able to lead an active and pain-free life.

There are a number of causes for neck pain – many deriving from common everyday activities like sport, computer use or watching TV – so it's no surprise that lingering and irritating neck pain is a common complaint among our patients.
Causes Of Neck Pain
Neck pain can be caused by any of the following and more:
Trauma – whiplash, sporting injuries etc.

Poor posture

Arthritis

Protruding spinal discs

Stress
Neck pain can lead to continuous discomfort, it can also result in other, related issues such as:
Headaches or migraines

Shoulder pain

Jaw pain

Carpal tunnel syndrome

Upper body pain
Treatment Of Neck Pain
The experienced team at Morley Physiotherapy Centre is dedicated to providing relief for all your muscular discomfort, and neck pain is no exception. From our first consultation we aim to uncover the root cause of your pain, and work with you to create a personalised, holistic recovery plan that incorporates physical therapy and massage as well as strengthening or releasing exercises.
Our therapists have years of education, training and experience, so you can be assured that you are being treated and looked after by our caring and qualified practitioners.
Start Your Recovery Today
Stop suffering and book an appointment with us today! Let's work together to provide relief and comfort for a pain that can be taken care of. We can provide you with the best possible treatment that is safe and effective, allowing you to lead an active and pain free life, so don't wait  – call us on 9375 3900 or visit our Contact Page and send us an email.