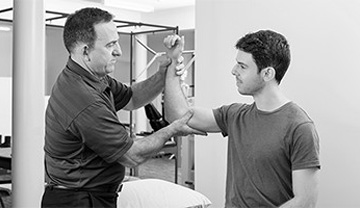 At Morley Physiotherapy Clinic, our goal is to help you recover normal movement function and body balance to get you back to what it is you love to do. Our experienced, fully qualified physiotherapy team has a wealth of knowledge to draw upon, using up-to-date treatment methods and techniques to effectively manage and prevent injury.
What Does Physiotherapy Involve?
Physiotherapy can include functional exercise programs and massage to dry needling, manipulations and mobilisations, and can treat a huge range of musculoskeletal injuries and pain points. Our Physiotherapists in Australia hold a university degree in Physiotherapy and are registered by law, with the Australian Health Practitioner Registration Agency (AHPRA), and are members of the Australian Physiotherapy Association.
Tony and the team of experienced practitioners in all aspects related to musculoskeletal therapy.  You can be sure that we will provide you with the expertise you need to get yourself on the road to recovery.
We work with you to assess and diagnose the issue at hand, and administer appropriate and current techniques to ensure that you get the best possible results from your treatment.
If you are experiencing chronic or acute musculoskeletal pain or discomfort, contact us at Morley Physiotherapy Clinic to see what our experienced staff can do for you!